FROZEN YOGURT – we offer a selection of 15 delicious flavors of frozen yogurt, sorbet and frozen dessert every day in rotation from over 50 available flavors.
APRIBLAST – build your own explosion of frozen yogurt blend. An APRIBLAST can be made with candies, fruit, cookies and flavored syrups to create a chunky, thick and creamy treat. Build your APRICUP and bring it to our check out counter for a blasting blend in our Razzler.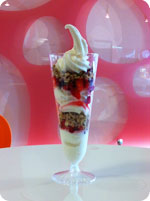 PARFAIT – we offer a range of prepared parfait made from fresh cut fruits. We can also custom make Parfait based on your selection of yogurt and fruits.
TOPPINGS – At any given time, we carry over 60 dry and cold toppings, including fresh seasonal fruit, candies, cookies, hot and cold syrups. Want to try some of our selected unique toppings like flavored balsamic vinegar or sea salt? You can free sample them for taste of your creativity or you can simply go on and get bold!